Video Marketing Cheat Sheet To Boost Your Online Credibility
Question:  "Is there a Video Marketing Cheat Sheet?"
Deanne was wondering how to kick-start her business online, and I suggested videos (the absolute fastest way!), which generally scares most people.  I created a PDF to share with her, and have listed the tips below as I think you might enjoy them too 🙂
This is how to use videos to get in front of as many EYES online as possible, by
using clever video to inspire additional content-creation strategies.
10 x QUESTIONS
Start by writing/typing 10 most frequently asked questions
about your business, product or service. If this is easy, add another 10 or 20 🙂
TURN QUESTIONS INTO VIDEOS
Video yourself or make a presentation/slideshow of you
asking and ANSWERING one question per video. 1-2
minutes in length is plenty.
IF YOU USED YOUR SMART PHONE
Using video editing software like iMovie or Screenflow for
Mac, or Windows Movie Maker etc, add intro and outro to
each video.

IF YOU USED YOUR COMPUTER
Using video editing software like iMovie or Screenflow for Mac, or Windows Movie Maker etc, add intro and outro to each video.

ADD A "CALL TO ACTION"
At the end of each video, tell the viewer WHAT YOU WANT
THEM TO DO NEXT. Visit your site? Sign up for a freebie
download or a freebie 3-video series? 10 minute phone
consultation? Pick ONE and TELL THEM.

EXPORT THE VIDEO
Export and send/download the video to you computer from your
phone, or export from your video editing software on your computer.

ADD VIDEO SEO
Do all the magic SEO required before uploading a video.

TRACK TO MEASURE RESULTS
To find out if your efforts have worked, you'll need to be able to keep
track. Create a spreadsheet or list of everywhere you upload your
videos etc, with date, location, name of video etc. Check results after 2
& 4 weeks, repeat the ones which are working!

TIME TO UPLOAD
Upload to Youtube, your website, Facebook business page, Google +, Pinterest
Video Board, Vimeo, Daily Motion etc. Add relevant SEO to each location!

CREATE A TRANSCRIPT OF THE VIDEO
Transcripts can be turned into many other pieces of
content! Publish as a Video Press Release.

TURN INTO A PDF & DISTRIBUTE
Create a branded PDF from the transcript, save as a PDF
and upload to sites like Scribd.com

TURN TRANSCRIPT INTO SLIDES & DISTRIBUTE
Turn transcript into slide presentation, and upload to sites
like Slideshare.com and Slideshow.com

CREATE SNIPPETS TO SHARE
Create short bullet points less than 100 characters each, turn into
tweets, automate and drip-feed over time, with a Bit.ly URL back to
your site (track Bit.ly's by creating an account there first).

EMAIL YOUR LIST
Don't forget to email your list and point them to the video which
should now have its OWN page on your website.
Best of luck!
And now it's over to you!
Let me know if this Video Marketing Cheat sheet has helped clarify what to do next, or if you have any questions — I'm very happy to chat 🙂
Would you like a copy of the Cheat Sheet as a PDF?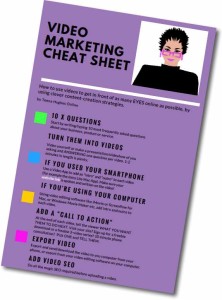 Here's how grab it right now: