Is it really April 2015?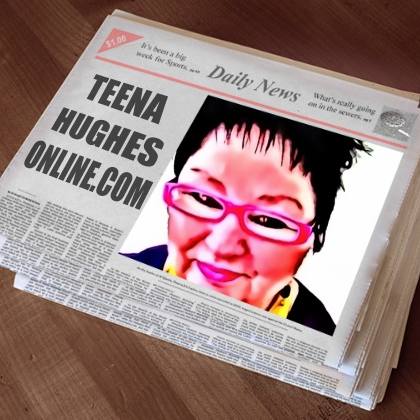 I no sooner dusted off the Yuletide decorations, put the Christmas tree fairy and friends in tissue paper for next year, and there are hot cross buns in the bakeries heralding the imminent arrival of EASTER — really????
What about you — are the days zooming by just as quickly in your neck o'the woods? How did your plans shape up for the first quarter of the year?
Quick heads up — I'm moving to an island!
That's right, in two weeks I'll be relocating to Coochiemudlo Island, 1.5 hours north of where I currently live on the Gold Coast. It's a tropical little haven only 6 minutes by ferry from the mainland.  I'm surrounded by boxes and excited about the new adventure on an island!
---
Questions & Answers
I've received some great questions via the Survey and the website, so I'll answer a few in each Newsletter (let me know if you have more questions):
1. "Teena, how do we set videos up to auto-start once someone lands on a web page?"
Everyone has their own opinion on whether videos should auto-play or not, and it does depend on the reason for the video, and the type of website (for example many internet marketers use auto-play on their Sales pages). My recommendation is:
NEVER have an auto-play video on your website (unless there are exceptionally good reasons)
statistics show that it annoys website visitors and most will click away from your

page

without reading or watching anything
it's better to have a heading on the

page

,  for example, "How

we

can help you TODAY?" – "Are your phone bills out of control? Watch our video to see how

we

can help!" — introducing the video and giving the viewer the choice to watch it or not works best.
2. "Teena, what do you mean when you say you distribute videos far and wide?"
distributing "far and wide" means posting videos on a website, Youtube channel, and then on other websites where you can post videos (or a link) — for example, social sites like Facebook, twitter, instagram, plus other video portals like Vimeo etc
the more PLACES you post a video, the more EYES you put it in front of
I have a specific strategy just for the website and Youtube (which includes video SEO), and a separate one for the wider distribution
it's very important to transcribe the video, so you have TEXT which the search robots can read, so you can add the transcription on Youtube, the website, and everywhere you possibly can
of course it's very important to have web statistics in place before you start any of this, so you can see which marketing effort works best — then do more of that.
 3. "Teena, can I use video backgrounds in Explaindio video creator software?"

Absolutely yes! I've done this quite a few times.
For example, in my Project I have selected the following:
Kinetic Typography 1 – Slide 01
I clicked on the VIDEO tab (see the screenshot below)
I can see there are TWO video slots available (one in the background, one in the foreground)
I can also see the TYPES of videos allowed in this slide – .MP4 and .FLV — if you need to convert your videos to either of these, use an online converter like http://video.online-convert.com/convert-to-mp4 — if you have software on your computer which converts videos, use that instead.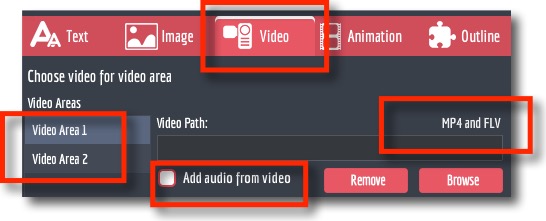 Once you have your video in the correct format, you can select VIDEO AREA 1 for the background video and click on BROWSE to find and upload your video. If you'd like a second video on the slide, select VIDEO AREA 2 for the foreground video and click on BROWSE to find and upload your video.
If the videos have AUDIO

click the checkbox for one video at a time for "Add audio from video".
Save your slide and preview. Hope this helps!
---
Living WITHOUT a computer for 3 weeks
I will share with you one thing where time apparently stood still … my computer's hard drive failed recently on a Monday morning, I handed it over to the techie boys at the store on Tuesday morning (10 days past 1 year warranty!), and the rest of the week dragged by interminably slowly.
When they said "about 2 days" to get a replacement, I believed them. To cut a very long story short, the manufacturer agreed to pay for the replacement just-out-of-warranty hard drive and labour. Then came 2 weeks more of the computer having a holiday in the store — glitches, problems, impossible for me to work with. Upgrading operating system. Lots of things stopped working. Me tearing my hair out.
This stretched the friendship way too far — I finally now have it back again, several back-up drives plus cloud storage all in place again, so I can finally get on with it 🙂 Not a recommended activity!
I did find a clever solution when I needed to use a computer though — an associate mentioned a free APP to me — called "Liquid Space" — which enables you to find meeting spaces (and in some cases computers) to rent for a small amount, or for free. I was lucky to find the Marriott Resort (6 mins drive) has a meeting space AND a bank of 4 desktop computers, so I spent a lot of time there until I got my laptop back.
SO — WHAT'S YOUR PLAN IN CASE OF COMPUTER FAILURE?
Yes, this has happened to me in the past, and I do have backups (I use TimeMachine for my MacBook Pro).
My beef is that this is the second computer in two years which has failed DAYS after the one year warranty expired — and I am very pleased (and relieved) to say that the warranty has covered the hard drive in both cases.
It still leaves room to consider what would happen if YOU were without your computer for a week:
do you have a back-up computer you can use?
do you have your back-up drives safely secured – preferably two of them kept in two different locations, and used for alternate back-ups?
do you also store a back-up online "in the cloud"?
how often do you do back-ups? or better phrased, how much work can you afford to lose since your last backup?
if you don't have a spare computer, do you know of a local place you can either rent a computer or use a computer if required? (this was the tricky bit for me! thank heavens for the Marriott!)
I hope this gives you food for thought — time to get your systems in place to avoid any loss of time due to computer loss for any reason.
---
Did you miss the last Newsletter? : 9 TIPS FOR THE BEST YOUTUBE DESCRIPTION
Did you miss the video where I talk about 9 simple and very effective tips for creating your Youtube Descriptions? No problem. Check it out >>
---
Upcoming Video Training
Because of my moving to another part of Australia, my training courses have taken a back seat for a short while — but only a VERY short while 🙂
Rather than training on specific software, I am planning on training video marketing STRATEGIES which may incorporate one or more of the video software packages I use on a daily basis.
How does this sound to you? I'd love to hear your thoughts. Send me an email, post a message on the website or blog, or chat with me on Facebook — I look forward to hearing your opinion.
Click to make a request – what would you like to learn?
---
That's it for this Newsletter, hope you found something of value. Please do let me know if you have any questions.
I'll see you in the next episode!
Cheers